***********************ALERT**************************
UNTIL FURTHER NOTICE, THE CREDIT UNION IS REQUIRED TO TAKE PRECAUTIONARY ACTIONS DUE TO THE CORONAVIRUS PANDEMIC. YOUR CREDIT UNION WILL REMAIN OPEN WITH A REDUCED STAFF. WE ARE ASKING THAT YOU UTILIZE ONLINE BANKING, DEBIT CARD PURCHASES & CHECK WITHDRAWALS TO REDUCE PERSON TO PERSON CONTACT. FOR QUESTIONS OR CONCERN PLEASE CALL 412-471-1133.
******************************************************** 
Welcome to the Iron Workers Federal Credit Union.
      Our credit union is a cooperative, not-for-profit financial institution organized to promote thrift and provide credit to members.  It is member-owned and controlled through a board of directors elected by the membership.  The board serves on a volunteer basis and may hire a management team to run the credit union.  The board also establishes and revises policy, sets dividend and loan rates, and directs certain operations.  The result: members are provided with a safe, convenient place to save and borrow at reasonable rates at an institution which exists to benefit them, not to make a profit.
      The purpose of credit unions is to provide credit and financial services at reasonable rates.  A savings account is called a share account, a checking account is called a share draft account, and share certificates are known as share term certificates.  The "share" is a reminder that everyone is an owner of the credit union.
Iron Workers Federal Credit Union was chartered in 1963.
Our goal is to help each member attain a strong and secure financial future.
Check out the great offer you can get from Sprint just for being an Iron Workers Federal Credit Union member. Click either photo below.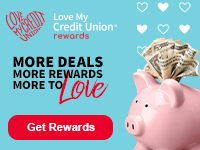 See the Promotions & Specials tab for more details.